04 December 2019
ASHLEIGH, 22, 3rd year student, Kalgoorlie, Western Australia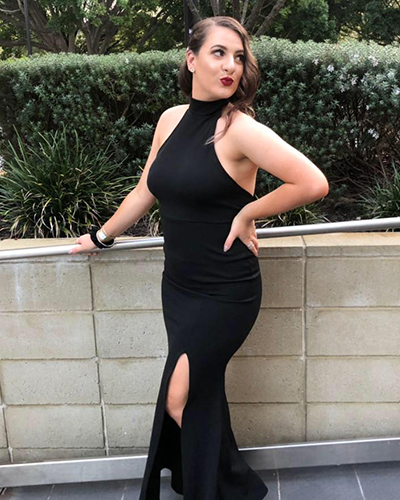 What are you studying in university and when do you graduate from the University of Western Australia? - I'm studying a double major in Psychology and I started in 2016. I will be graduating at the end of 2019.
When did you first move to University Hall and how long have you been here? - I moved to University Hall in February in 2016. I had my entire university journey in University Hall. I was first living in B House before moving to K, and then J House in my final year. I was a B House bandit for a whole year!
How was living here different from living in Kalgoorlie? - Living in Kalgoorlie, everyone always make a few trips to Perth in a year because there's always a reason to visit. It's fun to visit because it's a new environment and it's different from home, but we never stay here so you don't feel the difference. Because of the multiple trips we make, I originally under-estimated how different it was going to be. It was definitely very hard. I didn't really know anybody. There were a few students that I knew from Kalgoorlie like Dune, Ian and Sarah, but even then it was still a complete change from being in a household environment to living in a room by yourself. I still remember the first night I was here, I cried. Looking back at it now, I was so dramatic but at that time that feeling of sadness and loneliness was a legit feeling.
What did you do to prepare coming to University Hall and why did you choose University Hall? - I started to pack up my room in January, just after Christmas. Everything was being put in boxes, I was only taking stuff I wanted to Perth, things that reminded me of home and of Kalgoorlie. It was really tough because my mum would come into my room every time I was packing and cry. It was half-exciting for me but half-scary. How I decided on University Hall was easy. I was looking at all colleges and found that at UniHall, there's still a strong college culture but it's not intimidating and everyone respects your choices. There's minimal competition between residents and everyone ends up becoming really really close.
What was the biggest difference between living in Kalgoorlie and here? - It was really weird going from a small town, where it takes you 5 minutes to get almost everywhere to a place where you need to plan your journey. I didn't have to think about where I was going or how I was going to get there back home. Here, it takes you longer to get to places obviously and there's just so much more to do. It's different from living in Kalgoorlie where everyone kind of knows everybody.
How has University Hall helped you with your university journey? - I think college helped me greatly with university. Honestly, without being at college, I feel like I would have been a little bit lost. College helps with shaping your experiences a lot. You're so close to university and you don't need to worry about amenities because you have access to almost everything here. It makes it so easy to make friends here too, because college helped to make the process of making friends a lot less intimidating for me. You have Welcome Week to get to know everybody before uni and because everyone is in the same boat, you all have similar shared experiences. If I was living with someone away from university by myself, it definitely would have been a lot harder.
What was your favourite thing about University Hall? - There is something for everyone here. There are things that cater to everybody's interests, be it sports, leadership stuff etc. but the best thing about being here, I've made some really good friends from University hall. You get to meet people from everywhere around the world and it's so cool because you get to be a part of something bigger, knowing and understanding that you're in a very multicultural and global place. I especially love the volunteering events we have at University Hall, one I particularly liked was the birthing kits program last year that was headed by Dune and Himani. It was really important and interesting because we learnt about why these kits are important in different parts of the world. Inter-college events like the lip-dub challenge and the freshers dances are fun too. It's amazing to be a part of something that connects you to people from different parts of the world.
Why would you recommend University Hall to students who are moving to Perth? - Being at college helps your university experience so much more. It gives you opportunities to be involved in so much more. Everyone here ends up becoming a huge extended family. It makes the whole moving experience so much easier and so much better because it's such a warm, welcoming and diverse environment. It helps to know that your feelings about starting university are normal, nervous and scary, because almost everyone around you experiences the same feelings, and it makes it nice to know you're not alone. There are people just down the hallway who can make time to talk to you and be a listening ear for you.