13 November 2019
The community at University Hall extends its warmest congratulations to resident and Lead Residential Advisor, Natasha Lutz, who was announced as the Rhodes Scholar for Western Australia in 2020 on Friday 1 November.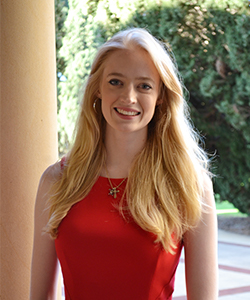 This prestigious award will allow Natasha to pursue a MPhil in Environmental Change and Management in 2020, furthering her passion, experience and knowledge in environmental management.
'I'd like to work to help improve the way we manage environmental resources, generate economic growth and improve our living conditions,' says Natasha. 'This scholarship enables me to work on this on a global scale and broaden my experience base.'
Natasha is an active member of the University Hall community, undertaking a leadership role as Lead Residential Advisor for the University Hall community, volunteering her time and knowledge to several University Hall projects, all while completing her Honours researching the impact of microplastics in the urban environment.
"University Hall is extremely proud of Natasha, and on behalf of the entire community, I congratulate her for this remarkable achievement." says Mark Sampson, Principal of University Hall. "Natasha is an outstanding contributor to our student community as well as our leadership team and this achievement is testament to her passion and commitment to not only her academic pursuits but to making a positive difference to the people and communities around her."
The Rhodes Scholarships recognises combination of academia and contribution to community, which Natasha says was a driving force behind her decision to apply for the scholarship.
'I wanted to apply because the scholarship enables me to study at the best university in the world, but also acknowledges aspects like leadership and service to the community, which I really identify with.'
While preparing the scholarship application, Natasha remained passionate about her Honours research, leadership roles at University Hall, and a part time role in industry; maintaining focus to ensure no areas would miss the attention they needed.
Now, Natasha looks ahead to her Honours submission in mid-November, and is looking forward to getting back into some other passions like painting and music before heading to Oxford in October 2020.
This prestigious Rhodes Scholarships were established in 1902, and provides one student from each Australian state, plus 3 additional scholars Australia-wide, the opportunity to study at Oxford University.