08 May 2020
Residents at University Hall were treated to a week-long celebration of culture and diversity thanks to the Pathways to Leadership program's Multicultural Week.
Held from Monday 27 April – Sunday 3 May, Multicultural Week featured a series of initiatives and events that united residents, promoted cultural exchange and learning, and celebrated our multicultural community.
The initiatives and events included:
Multicultural Week was brought to life by UniHall's Pathways to Leadership Program, where students are tasked with developing a week-long series of events to connect the community in a meaningful way.
Further, all Multicultural Week events were required to be delivered online and remotely to recognise physical distancing requirements as part of the COVID-19 response.
Residents embraced the online mode of connecting with these Multicultural Week events, with almost 40 people registered for the Craft Workshops alone. Some of the creations are below.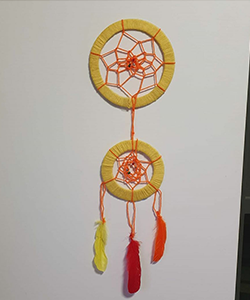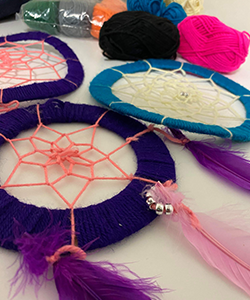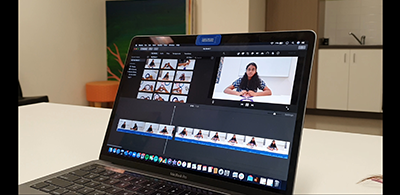 Images: (Top Left & Top Right) Dream catchers created for the Multicultural Craft events, (Bottom) Image of the workshop video being created on a laptop screen.
Leadership program participants ShuHui and Natassha brought this online workshop to life by effectively navigating the challenges of project management; from managing budget, to advancing technical skills, and problem solving. They shared:
"There are a couple of things we learnt while organising the event. We learnt that communication between us was vital. Besides this, coordinating our budget was tough as our event was the most financially consuming one in the week. The most challenging part for us, would probably be the filming and editing of the tutorial videos.
To top it all off, the main and most important skill we learnt was the ability to continuously improvise whenever we encounter dead ends! We had to solve problems creatively as soon as possible and think of all the possible consequences that may occur from our actions."
Another program participant, Fang, who was a member of the team that delivered the daily language videos, agreed that communication was core part of success in their approach. Fang also shared that the hands on experience provided a great opportunity to learn and apply the knowledge she has learned in the program and at uni as well:
"I've learnt about the importance of communication, both between teammates (horizontal) and supervisor (vertical), during the planning stage. There were some misunderstandings during the process, which led to multiple alterations on the video content.
It is surely a great experience for me. I learnt a lot by working with different kinds of people. During the planning process, I can really relate some issues with my Project Management unit, so for me it feels like actually applying obtained knowledge into real life."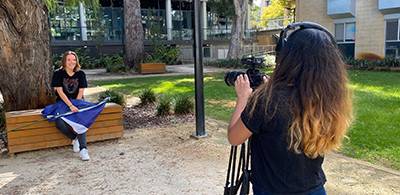 Images: (Left - Right) Students holding their national flags as they are filmed for the language videos.
The Pathways to Leadership program is focussed on supporting students to build their personal leadership skills through real life experiences.
Find out more about our Pathways to Leadership Program, and other Professional Development programs.