04 January 2018
It's hard to believe 2018 is already here! To celebrate our community achievements, UniHall reporter Dewi, has shared a few highlights for you.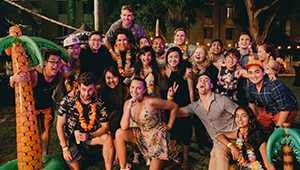 2017 has proven itself to be a jam-packed year for us, with a diversity of portfolios present in UniHall, there was never any shortage of events that were run by students, for students! I enjoyed starting each semester with the enthusiasm of the residents, who are all so interested in making the most out of their university experiences. With so many things on, let's take a look at some of the highlights this year:
Orientation Week
It is the time of the year, where University Hall (UniHall) is buzzing with lots of new and familiar faces! The floors in college have all been spectacularly decorated by the Residential Advisors, each with its own unique theme and atmosphere, all complimented by the excitement displayed by Residents' Club (ResClub) and the Academic Team. The Freshers, with the bright green shirts partake in various activities, such as the Fresher dance, café crawls, laser tag or a trip around Perth whilst competing in the amazing race! I love being able to meet new people during these first few weeks, and especially this special little tradition, where friendships strengthens over food (We love going out to restaurants, cafés - anywhere that has food!).
I spoke to one of the freshers, Vicky and she shared her memories of her first year in college.
"I'm glad I chose UniHall because of the wonderful friends I've made from all over the world. Living in B house also meant interacting with 23 other floor mates. I especially loved the pantry conversations and cooking noodles using the microwave together in the middle of the night."
Returner's Week
A new event in semester 2 (inspired by NAAUC) was Returner's Week, aimed at introducing new residents to returning residents. Events included; speed-friending, café crawls, fish-bowl discussions on mental health and sex, sexuality and gender, along with the highly-anticipated murder mystery night. Each night, there was bound to be a resident I hadn't met before and some of them were even returners!
The '3' big UniHall events
Coordinated by the lead RAs, who put in hours of efforts to create memorable nights. We kick-started the year with the commencement party, with a Hawaiian theme in the upper quad, followed by a South American themed International night and ending with the Parisian themed farewell party! With the diverse range of cultures that UniHall is home to, there was always a plentiful amount of dancing, tasting new cuisines, and taking photos to cherish all these fond memories.
Pathways to Leadership program
The Pathways to Leadership program is a year-long initiative that aims to build upon leadership and employability skills of our residents. This year has marked a series of seminars by various guests, ranging from Theadosia Kurniawan, the founder of TEDxUWA, to current and past residents such as James (2017 ResClub President) and Daniel Ho (2016 RA).
The events coordinated by those involved in the program were ones full of creativity, with the mid-autumn festival, soap-making workshop and many stimulated discussions, such as the mental health discussion panel and PRIDE week.
"I really enjoyed participating in the UniHall Pathways to Leadership Program. This consisted of a series of seminars, opportunities to create projects in our area of passion and even a 3-day retreat in Bickley! It was a fantastic opportunity to hone our leadership skills and make many wonderful friends," says SyinJu, 2016 Pathways to Leadership resident.
Academic Team and their repertoire of events
This year, we had a new body in UniHall, whose minds came together to help enrich the academic experience of the college. They encouraged networking, amongst the 750 residents we have, through the mentor-mentee programs. Career workshops were held to teach us about employability skills, which proved to be a huge success! I attended How to Ace an interview by Robert and; even though the event went for 1.5 hours, we kept talking until late into the evening because we were all so engrossed in what we were being taught!
Faculty Suppers with UWA academics and Research Seminars with residents presenting their research. A highlight was the presentation by Nobel Prize winner Barry J Marshall; the line for his seminar was the longest I have ever seen!
There were also some newly introduced events, such as the interfaculty debates, which had residents pitted against one another to present their case about a contentious issue (such as designer babies and the glass ceiling). The language exchange lounges really showcased our diversity where we got to learn new languages and cultural traditions (each event was hosted by fellow residents).
"Being part of the Academic team has been so encouraging working alongside inspiring and hardworking individuals. Our team maintained a level of flexibility that would allow each of us to work on leadership skills by managing our events. It has been such a privilege to serve the UniHall community and to see some of the residents that have benefited positively from our events, workshops and/or mentoring services. I hope to see the future works of the Academic team not only assist academic performances but also to equip students for their aimed career path," says Annabelle, 2017 Academic Facilitator.
ResClub
ResClub continued to amaze us with a fun and exciting events calendar. They delivered grand events such as the river cruise, mock casino nights, and end of semester parties, to more intimate events such as a movie nights. Speaking of grand, the biggest event of the year, the UniHall ball, took us to Spain! The night was filled with dancing, photos and lining up for the ever-so popular churros.
Community Spirit
There was always the gift of giving within UniHall, whether it be running events for the college or volunteering in the wider community. This year, the RAs have organised blood drives, wearing a dress to fundraise for girl's education and making dinner for the local Ronal McDonald House. The community advocates organised events from the cultural quiz night, to meditation series and a mocktail night for the HeforShe campaign.
RA events
The RAs organised a myriad of events to help build the unique culture we have at UniHall. We had competitive and social sports ranging from soccer, table tennis and Frisbee (still with a hint of rivalry, especially in proving which blocks reign champions).
Hands-on events continued to make its comeback, and this year did not disappoint! We decorated cups, pot plants and created our own peppakura masks. Even within some of our floor events, we learnt how to make pizzas, poke bowls, sushi and attended a high tea party.
I loved having such a vast number of events in UniHall, as there were always opportunities to come down and have a break from all the studying. It had been a massive year and with the summer vacation happening now, even though we are all having adventures of our own (whether it be back home or exploring a new country), we cannot wait to come back to re-unite with our friends, and meet new residents to forge even friendships!
See you soon!
Written by Dewi, UniHall reporter