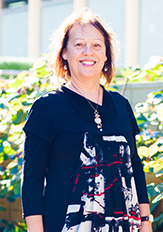 Meet our Deputy Principal
Janet has been at UniHall since 2008, where she was Student Services Manager at Currie Hall, working closely with the student leadership teams to develop student programs and activities as well as managing the overall resident experience.
In 2013 she became the Deputy Principal of the new and larger University Hall, managing the Residential Life team; in 2014 she also assumed the role of Alumni Manager, working with an alumni committee to encourage engagement and participation of former residents. Janet has a wide range of hobbies depending on the season.
"I love the fact that every semester is different at UniHall. We welcome new people from all over the world into an already vibrant and active community. We see current residents developing into outstanding leaders and role models as they share their own experiences at UniHall and UWA with new residents, making sure that they feel supported at a time when everything can feel a bit overwhelming. This is 'independent living with a safety net' and I love the energy and sense of purpose we share in making this a successful community."