08 February 2018
University Hall was the perfect choice!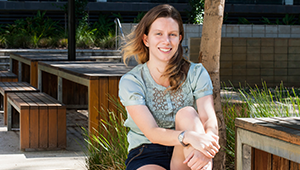 It's fantastic to see our Residential Advisors, student leaders, move back into University Hall this week. Together we're preparing for our new residents to arrive on Sunday 18 Feb. Our interview series continues with our residents reflecting on their experience moving into the Hall for the first time.
UniHaller Tia, From Albany, shares her experience moving away from home and living and studying at UWA.
"Moving away from Albany to go to University seemed daunting, but University Hall was the perfect choice. It's convenient location is within walking distance to the grocery store and a few food places, while a short bus ride gets me to the city or beach. It also has an amazing balance of programs that help with creating a great social life and succeeding academically," she says.
There is still time if you're thinking of applying now to live at UniHall. Submit your online application today.